Have your ever tried to recover your youtube account again which is suspended due to suspicious activity
We will discuss here about "How to recover/restore your suspended youtube account".
As all well known that,YouTube is 2nd  most popular website in Alexa top website list and it is the second most popular search engine as well, after Google. YouTube is world's most popular video publishing website with over 1.5 billion active users monthly.
In 2017 many YouTuber are getting their YouTube account suspended for no reason even I was also a victim as my 2 fast growing channels (one month old) were terminated without any reason and prior notice. This was a strange moment for me as I never violated any YouTube policy and did spam.
Before check the steps how to recover suspended youtube acocunt you must check amazing view of Youtube
YouTube monthly worldwide active users vs. top social platforms, in millions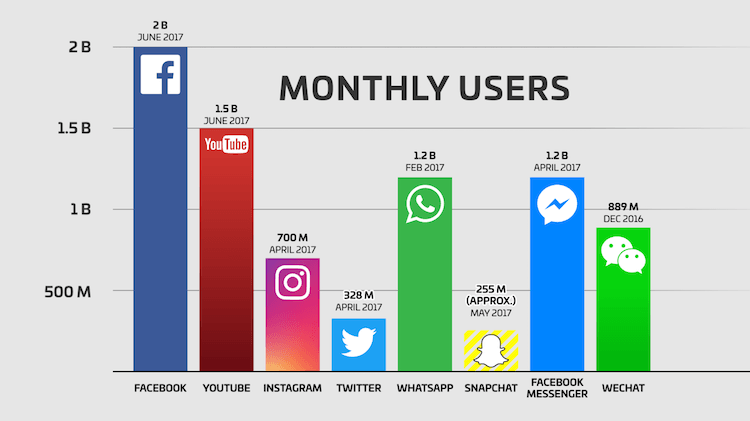 Top Youtube Key Data Points
Total number of YouTube monthly viewers worldwide – 149 million (Statista)
Total number of YouTube daily viewers worldwide – 63 million

 

(YouTube stats)
Hours of video watched daily – more than 1 billion (YouTube)
More than 50% of YouTube views are coming from mobile devices

 

(YouTube stats)
Total number of YouTube users logged on – 1.8 billion (Recode)
Hours of Video Uploaded to YouTube per minute – 300+ (Om Malik)
Hours spent on YouTube per month – 19 (Business Insider)
YouTube top channel – T-series with 2.2 million views / month

 

(Source: Statista)
YouTube top celebrity – PewDiePie with 54 million subscribers

 

(Source: Business Insider)
YouTube top video – Despacito with 5.12 billion views

 

(Source: Wikipedia)
YouTube estimated revenue in 2015 – $8 billion
YouTube top-earning star revenue in 2015 – $12 million
Average YouTube CPV – $0.044 / view
So everyone well aware how YouTube is popular now these days and many youtuber and other people get sad when they got the message your Youtube account is suspended so you need to know how can you recover/restore your youtube account if suspended.
You must know what will happen when your youtube account/channel will suspended?
If your YouTube account or channel suspended, the platform would not display your videos to the audience, and you can no longer see the videos. So, it is better to store your videos which can be helpful during the situations if they arrive, unfortunately. After the suspension of the YouTube account/channel, even the Google plus is also will not be visible to the user.
What will you do now to recover/restore your suspended Youtube Account
There are some reason due to that youtube account may be suspended you must know about it
Repeated violations of the Community Guidelines or Terms of Service
A single case of severe abuse (such as predatory behavior or spam)
Accounts dedicated to a policy violation (hate speech, harassment, impersonation, etc)
In any case, if your Youtube account is get suspended then everything is NOT over yet! There is a possibility that you can recover your YouTube account again.
Please note following points for suspended YouTube account.
YouTube will not delete your channel
Your videos will still available for viewers to watch
Users can still subscribe your channel
That means your channel will grow even if the account gets suspended. So don't abandon your channel even if it gets suspended from YouTube.
Recover Now your Suspended Youtube Account Using Recover Process
If your YouTube account will suspended then you will received a mail from YouTube which will inform you that your youtube account has been suspended.
Now, if you will try to login into your YouTube account you will be redirected to Unable to access a Google product, This page will say.
"If you've been redirected to this page from a particular product, it means that your access to this product has been suspended. Read on for more information."
The last line of this page is important which tells about the process by which you can recover your account.
"Next steps for suspended accounts: If you believe your access to this product was suspended in error, contact us."
You can see a link on the "contact us" a text, click on it.
A form will open which will ask three things
Email address you use to sign in to your Google Account *
Email address we can use to contact you
Please briefly explain why you think your access was suspended in error. Please include any relevant information that you believe could have caused the suspension. *
Write following text in last input field to recover your suspended Youtube account.
Hello,
Suspension of my YouTube account is an error because I didn't violate any terms & conditions of YouTube.  My Channels have 75 (Write your count) videos and 3500000 (Write your video views) Views.  All my videos are originally created by me. Please recover my account as soon as possible."
Submit this form, and you will get acknowledgment mail from google at your given email it.
If everything gets fine it will take only a few hours and google will unblock/recover your YouTube account. For my own account, it takes only 2 hours.
Suppose a case where you actually violated YouTube's terms. In that case, too you can recover your account. It may take some time (6 – 12 months) to recover it.  Keep trying every month and never lose your hope your suspended Youtube account will recover definitely.